Design, Usability and the Impact on Complex Systems
Historically, "usability" refers to post-design measurement and testing. Following existing software development methods, it is entirely possible to create a system that is neither useful nor intuitive but meets usability guidelines.
So how do you ensure that the software you create is both useful, usable and innovative? With a solid design process that accounts for everything from the start. In this white paper, we explore:
Why usability isn't enough on its own;
Concrete examples of why experience matters;
The differences between popular software development processes; and more.
Ultimately, this paper will help you discover that good design is a research-based, iterative process that discovers and defines requirements, is fast and inexpensive, reduces risk, and will ultimately help you reach your goals.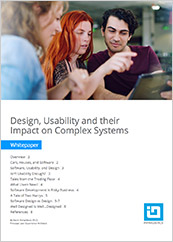 Download Now