Simplify User Testing - Get Actionable UX Insights Before You Code
Indigo.Design makes user testing easy.  Quickly test new or existing designs, prototypes, and apps with real users, on any device or platform.  Get user insights and optimize usability before writing any code, ensuring your apps shine with the best UX possible!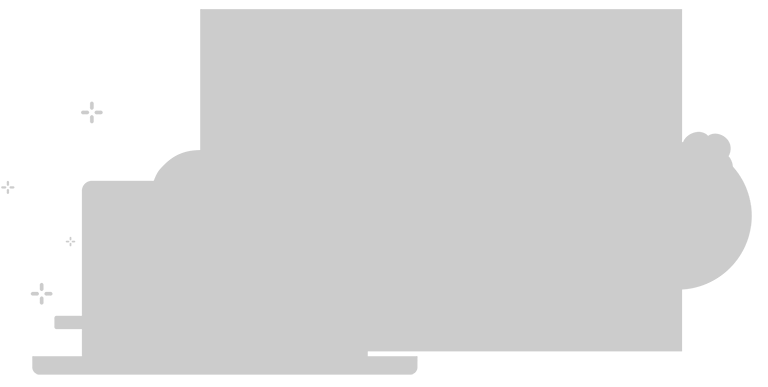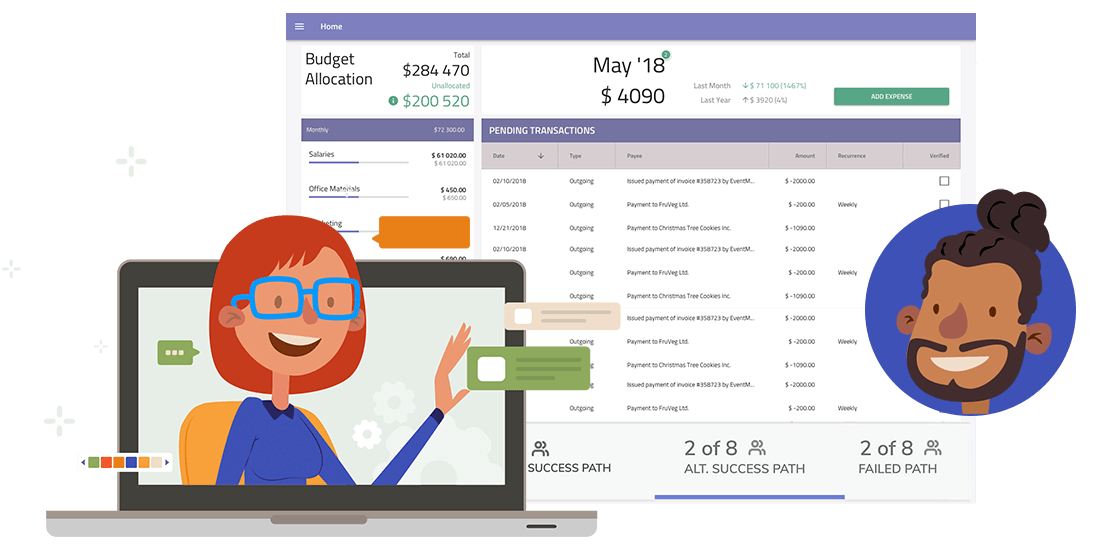 Maximize the ROI of Your Investment in UX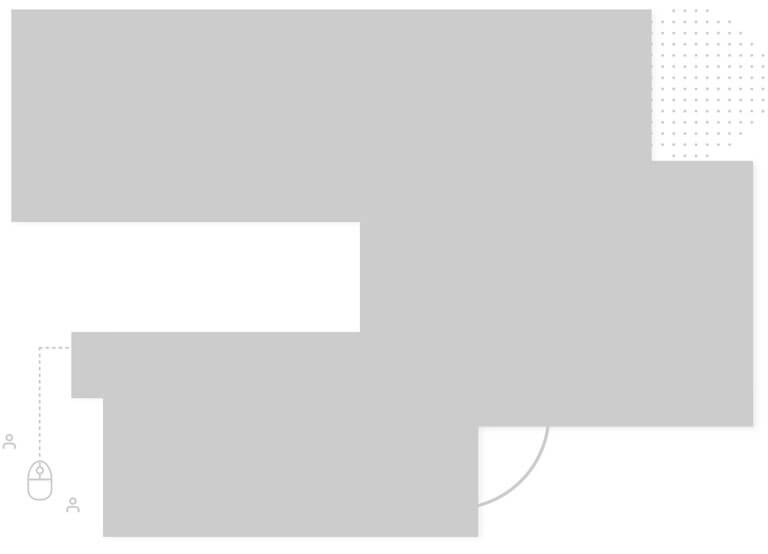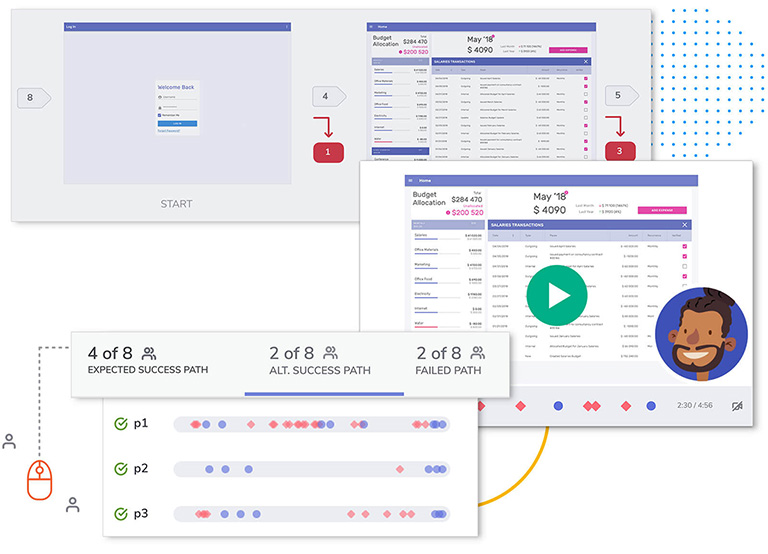 According to Forrester Research, every $1 invested in UX results in a return of anywhere from $2 to $100*. But despite that, only 55% of organizations conduct any user experience testing.
Why? User testing is often viewed as too costly, time consuming, and complicated to fit within timelines and budgets. But it doesn't have to be.
Indigo.Design makes it easy to test usability and improve your UX. With tools to create and execute remote, unmoderated user tests, analyze user data and journeys, and deliver real insights into user behavior and preferences. And with a fixed cost per user and unlimited tests, Indigo.Design won't break your budget.
3 Easy Steps To Get Started With
User Testing
1. Quickly Create and Set-up a Remote,
Unmoderated User Test
Whether you are testing the usability of a new design, prototype, or an existing application, Indigo.Design makes it easy to get started. Watch the video to learn more about the test editing interface, where you can quickly define and script your test.
2. Invite Users To Participate in Your
Unmoderated User Test
Once your test is created, inviting users to participate is easy. Just share the link to your test and users can access and participate using any device. Users can opt-in to allow video and screen capture or not, based on their preferences.
3. Observe Users, Analyze Usability Test Results and
Gain User Insights
Once users begin testing, you can immediately access data and insights using the test analytics tools within Indigo.Design. Here you can view data and insights regarding usability and user experience (UX) for any design, prototype, or application that you have tested.
Included in the User Testing Analytics:
Test Analytics Overview - Get key insights including the test success rate, total number of users who accomplished each task with your test, and the average time spent on each task during your user test.
Completion Funnel – Observe an aggregate representation of the expected user path, as well as the actual paths users took while trying to complete each task within your user test.
User Segments – Gain additional insights by automatically segmenting users based on whether what actions they took and whether they complete a task.
Participation Details Table – Dig deeper and overserve session details for each individual user, including and video, voice and/or facial images captured during the test.
Simplify User Testing –
Try Indigo.Design for Free
Try It Now
There isn't any prototyping tool with this kind of animation capabilities. The best for the money. There is a lot of intuitive features for interactive prototyping, usability testing, and collaboration. You can copy/paste your designs from Sketch and animate your interactions in any possible way.
Indigo is a great replacement to wireframing and prototyping tools like Axure and Balsamiq. Ability to create interactive prototypes with animations quickly and also to sync with Sketch to reuse artifacts. We are also starting to include usability testing in our workflows.
I have worked in Balsamiq and made the switch to Indigo and LOVE the enhanced features.
Extremely easy to design and setup interactions. Testing is a breeze! The training videos are GREAT!










Contact Us About Indigo.Design
Indigo.Design is a complete design-to-code system – integrating prototyping, usability testing, and code generation. To get more information, please complete the form below and a member of our team will follow-up to confirm and schedule at a date and time that will work with you.
Frequently Asked Questions
Questions and Answers for Indigo Design
What is User Testing?
User testing is the process in which a user experience team, UX researcher, a product manager or anyone involved in the creation of software, tests the experience (interactions, screen flow, button location, etc) of the software with test groups, end users and stakeholders to ensure that the defined interaction model matches the user expectation. The goal of user testing is to ensure the designers of software are iteratively checking their designs with end users and that their design meets or exceeds the expectations of the users, with the result of any software delivering productivity and efficiency for the user of the software. 
What are the Types of User Testing?
There are several types of user testing and user research approaches or categories, each with advantages and disadvantages.
Expert Review – Use when you need to find and more basic usability and design issues in a proposed design. The output would be specific design problems and proposed resolutions.
User Testing / Usability Testing – Use during an iterative design process to evaluate design concepts, prototypes, and completed interfaces to quickly discover design problems. User testing can be in-person and moderated, remote and moderated, or a more modern approach is remote and unmoderated.
User Research – Is usually done at the beginning of a project with various techniques with the goal being a full understanding of user needs. You will discover the user's full persona, their context of use, and their requirements.
In today's world, with the user experience design and the product designer working closely together in iterative design process, we see an explosion of user testing, with remote, unmoderated user testing being a top choice for fast results.
How to do Usability Testing?
Setting up a Usability Test or User Test for your prototype or application is very simple. In fact, there are 4 quick steps to do this in Indigo.Design:
Click the "New Usability Test" button under Usability Tests from the Home Screen in Indigo.Design.
Select an existing prototype from the list.
Add Tasks, or Test Questions, and record the screen flow of the task.
Share your user test by inviting users via email or copying the URL for the user test and sharing it in your communication tool of choice.
It is that simple. The guided experience when creating a new user test is very graphical and intuitive. In four clicks, your user test is started. You can add as many tasks / questions / screen recordings as you would like. There is no limit to how many questions you ask a user in you user test. As soon as your stakeholders start taking your user test, you will see real-time, instant analytics of their feedback, successes, and issues. .
What are the Goals of Usability Testing?
Writing software is expensive, writing software that nobody wants or that nobody can use is 100x more expensive. The goal of user testing and usability testing is to ensure that your designs are on the right track before you hand them off to a development team to start writing code. The design should meet or exceed customer expectations and fit in the mental model of how your customers / stakeholders expect to do their job and be productive. This is only possible by including customers in the design process, doing user testing and usability testing often as part of an iterative software design process is critical. Getting this real-time, consistent feedback will ensure success in the experience of your application once your development teams start to build based off the design.
Why is Usability Testing Important?
Usability testing and user testing are important because of the high cost of fixing UX bugs once software is shipped. Like any software bug, a bug in the interaction of an application can cost the end user time trying to understand how to achieve a task, which in turn costs them money. Research shows that a bug fixed during an iterative design process can cost as little as $1 to fix, but once that UX bug is shipped to the market it can cost as much as $100 to fix. This is an order of magnitude in real cost. Usability testing not only saves money, but it saves the end user a frustrating experience, and the risk that they will tell their co-workers and friends that your software delivers a poor experience.
Can I use Indigo Design for Mobile App User Testing?
Indigo.Design is a great tool for creating mobile app user testing. Using the same simple 4 steps in the "How to do Usability Testing?" FAQ, you can create a mobile user test. With mobile user testing, your stakeholders can experience the interactions of you mobile UX on their phone, or in the browser on their desktop, the user test is shared via a URL. No matter how you take the user test for mobile, you get real-time, detailed user testing analytics as stakeholders and customers take the user test.
How is Indigo.Design Different than other User Testing Tools?
Indigo.Design is different from other tools that do user testing in a handful of ways:
Indigo.Design excels at remote, unmoderated user testing and usability testing. This modern approach to user testing ensures health safety and social distancing while delivering real-time results so your design teams can remain productive in an agile, iterative development process.
You can build an interactive prototype in tools like Sketch and sync with the Indigo.Design cloud, or upload screen shots of your application screens to the Indigo.Design cloud and create user tests in a few simple clicks.
Reporting is real-time, and details. Metrics like success rate, total number of users who accomplished each task with your test, and the average time spent on each task during your user test along with video recordings of the user test are part of the reporting.
Indigo.Design does not charge per tester. Once you buy Indigo.Design, you can create 1 user test, or 1,000 and share those tests with millions of stakeholders. There are no limits to the number of user tests, or the number or people that take user tests.