Webinar: Unlock the New Ignite UI for Angular With 20.1
Event Description
Please note: This webinar will begin on July 23rd at 12:00 PM IST 


At Infragistics, we strive to provide  you with the best possible user experience and keep you up-to-date with the latest versions of frameworks, platforms and technology.  Our recent release of Infragistics Ultimate 20.1 offers our most robust Angular update.  Join us for live demos as our team showcases what we have done to continue to deliver the broadest, deepest native Angular product on the market today.
You will get an inside look at:
What's new in Angular
Our Newest Features in Ignite UI for Web Components
Dock Manager in Angular Application
Hands-On with Dock Manager

This hands-on lab will be your chance to get your questions answered by our experts, and learn how to use fast and powerful UI controls to enhance your high-performance apps.

About the presenter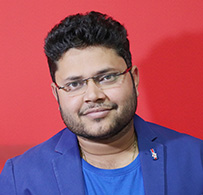 Nitin Sharma has over 10 years of vast development experience on different technologies, is awarded by Microsoft as an MVP, as well as a former C# Corner MVP. Nitin is a blogger and author at Tutorials Link.