Infragistics / Nintex Partnership
Enables Efficiency Everywhere

Roles today have evolved — there are not as many assembly line workers, but the information worker is here to stay. As businesses race to become digital, team collaboration is more critical than ever before.
Sales and marketing teams, field service representatives, or even traditionally office-bound teams like human resources, finance, and information technology, must be able to keep up with their work no matter where they are. In fact, IDC estimates there will be 105.4 million mobile workers in the US, or nearly three-quarters of the workforce by 2020. The modern workforce wants — and often needs — to be mobile, but employers struggle to enable workers to work where they want, how they want, when they want.
As people make this shift to a digital workforce, companies have developed many tools and processes to get the job done, but many of these rely on traditional networks and connectivity; these desktop-bound tools won't work when you're on the go.
Put simply: disconnected apps mean disconnected experiences.
Consider how a typical person might want to work today. She wants to use the best-in-breed for each function, which might mean using Microsoft Office for word processing and spreadsheets, and Nintex for workflows and business process. Documents might be saved on a local network — or in the cloud on SharePoint sites, in OneDrive, Google Drive, and DropBox, and she may need to access and aggregate data from Excel, Salesforce or Microsoft Dynamics CRM and Google Analytics, in order to visualize the metrics that allow her to spot opportunities and areas of concern in real-time.
That's a lot of data from a lot of sources, with a lot of variety in online / offline accessibility. Which frequently causes…a lot of challenges.
Nintex, the leader in workflow and content automation, and Infragistics, a worldwide leader in providing mobile collaboration solutions, are partnering to solve these challenges. We're doing this by seamlessly integrating Nintex Workflow and Forms with Infragistics' SharePlus. Nintex Workflow and Forms automate processes on and between today's most used enterprise content management systems and collaboration platforms, connecting on-premises, cloud workflows, and mobile users; SharePlus is a mobile collaboration and productivity application for Microsoft SharePoint on-premises and Office 365. Together, these solutions enable teams to use a SharePlus Mobile Workspace to run business processes, analyze data, and work on documents both on-premises, or in the cloud, natively from their iOS devices.
The experience for users — regardless of their location or connectivity — is remarkable. They simply select the process they want to start within the SharePlus Mobile Workspace, then the Nintex Mobile app automatically launches, showing the associated form.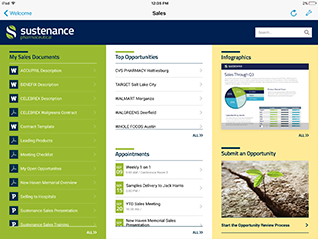 Then, once the form is completed and the process is initiated, the user is automatically returned to SharePlus. Current users of Nintex web-based forms for Office 365 and SharePoint are also able to render and complete associated tasks within SharePlus.
This means sales reps can carry all of the latest messaging for their products in a tablet (as opposed to needing a large briefcase), and still present the information to their customers offline when they can't get a signal.
Similarly, a field service worker can see current inventory status on a required part, reserve it, and get the process started to make a follow-up appointment for their customer—without having to call the office.
And a hiring manager can review job requirements and candidates' resumes while in the air, selecting who to meet, even without using unreliable internet on a plane.
With access to documents, data, and workflows within one secure native mobile app, Infragistics and Nintex help today's workers become more efficient.

Keep Working Flowing Give your teams a single mobile workspace to collaborate anywhere in the world from their iOS device. Run business processes, read and react to your documents on-premises or in the cloud, and analyze your data to make smarter decisions in real-time.

Customize Your Workspace Adapt SharePlus with Nintex Workflow to match the way your teams work. Create a branded mobile experience right out of the box.

Enable Enterprise Security SharePlus is MDM ready, allowing teams to be productive without compromising privacy or security.
"When we began to talk to Nintex about the possibility of this relationship, we quickly realized our shared common vision of helping business teams become more efficient," said Chris Sullivan, Director, WW Alliances and Channel Sales at Infragistics. "We have a core set of common customers, and are excited to bring the solutions together to meet their needs."
"Nintex automates business processes to make work easier for all," said Nintex Technology Partner Evangelist, Eric Harris. "As a Nintex Certified Technology Partner, the collaboration with Infragistics to enhance the mobile experience and help enterprises realize the immediate benefits of automating workflows within the context of their SharePoint content aligns with our goals for driving value across departments for greater efficiencies and results."
Both existing Nintex and SharePlus customers can connect with their current solution providers to learn more about the benefits of deploying SharePlus with Nintex Mobile. The joint solution is available immediately.
Check out the free trial today at www.infragistics.com/shareplus/Nintex.