Webinar: Simplifying Blazor in 60 Minutes (1)
Event Description
Please note: This webinar will begin on June 4th at 12:00 PM IST 


Get hands-on experience with building the most modern web apps with Ignite UI for Blazor, offering the highest performing data grid, over 50 chart types, financial charting, Excel spreadsheet and Excel library, and more.  Join us and see how your team can build interactive client-side web UI with the best performance
You will get an inside look at:
Environment set-up for Ignite UI for Blazor
Building your first application
Exploring Blazor components
Blazor WASM vs Blazor Server
This hands-on lab will be your chance to get your questions answered by our experts, and learn how to use fast and powerful UI controls to enhance your high-performance apps.
About the presenter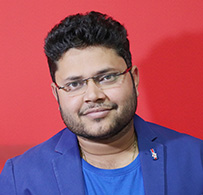 Nitin Sharma has over 10 years of vast development experience on different technologies, is awarded by Microsoft as an MVP, as well as a former C# Corner MVP. Nitin is a blogger and author at Tutorials Link.