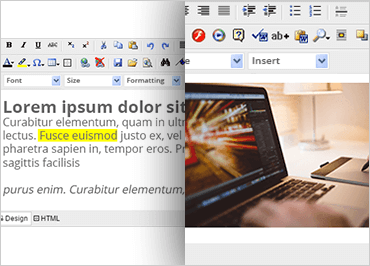 ASP.NET HTML Editor
Give end users a rich HTML editing experience within their web browser by adding the power of a WYSIWYG editing tool to your web application.
DOWNLOAD ASP.NET Samples
---
Built-in Text Formatting Toolbars
Supports all standard text formatting capabilities: changing fonts, size, setting up bold, italics, indentations, and much more, including undo and redo.

---
Insert Rich Content
Insert HTML tables, flash/wmv videos, images, and more with the HTML Editor.