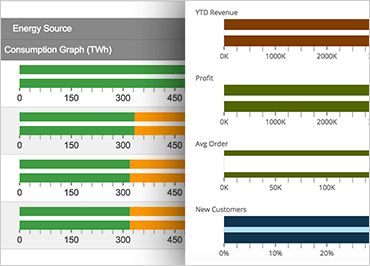 Ignite UI Bullet Graph
The Ignite UI Bullet Graph control displays values along a continuum. This visualization allows you to display positive or negative progress towards a target. The Bullet Graph is great for showing progress towards a goal, such as KPI's or status bars for tasks in your application. Ignite UI's Bullet Graph offers the most complete range of customization options, including custom scale and tick mark settings, custom range settings, animation, and vertical display.
View Sample
---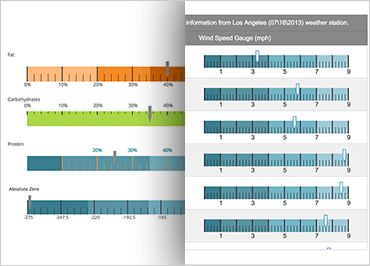 Ignite UI Linear Gauge
Ignite UI's Linear Gauge component is a great option when you need to indicate where a specific data point sits on a defined range. Some popular uses for this type of visualization are demonstrating progress towards a goal or if a data point sits in a specific range. But the Ignite UI Linear Gauge is not only an easy way to show data. This component also works as an input component, allowing users to place the needle anywhere along the continuum and update application data.
View Sample
---
Ignite UI Radial Gauge
The Ignite UI Radial Gauge is a very intuitive way do illustrate data points along a continuum. Similar to a speedometer, the Radial Guage provides a way for you to allow your users to understand their data with a glance. The Radial Gauge has a variety of customization options and can even work as an input control.
View Sample