Ignite UI Tile Manager
One of the most popular user interface paradigms, especially on touch interfaces, is the layout pattern. Users like the easy-to-understand design, and the use of images makes understanding how users should interact with the application easy. Use the Ignite UI Tile Manager control to render and arrange data into tiles in a responsive grid layout. You can configure each tile's position (row and column span) and dimensions (row and column position). Granular tile spanning lets you set column and row widths and heights by pixel value, percentage of the total, or wildcard value to use unutilized space in the layout.
View Sample
---
Collapsible Splitter
Sometimes, screen real estate is at a premium. With a collapsible splitter, Ignite UI's Tile Manager control can help you manage your web pages' content and enhance your user's layout manipulation experience.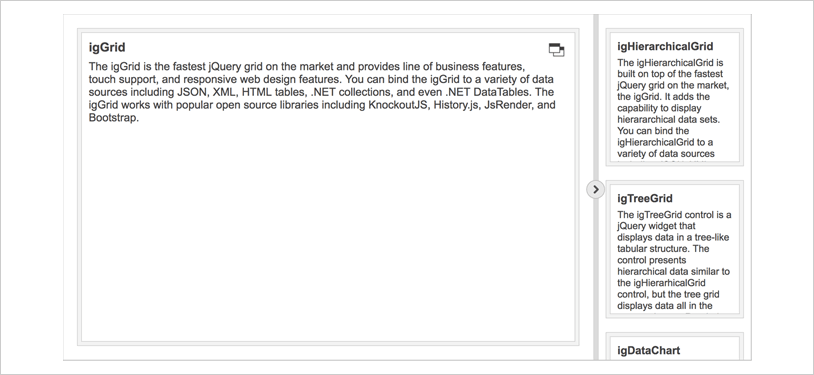 View Sample
---
Leading Tile
The Ignite UI Tile Manger provides many ways to create amazing user experiences for the modern web. With the Leading Tile feature, the Tile Manager gives you an intuitive and striking way of highlighting information for your users.
View Sample