Amazing Experiences with Launchpads in SharePlus
Mobile devices are everywhere, giving executives and employees around the globe the chance to capitalize on the advantages of the mobile platform. But how do you successfully transition the custom functionality of SharePoint to the mobile platform? That's where Infragistics' SharePlus can help.
In this white paper, we explore how launchpads built in SharePlus deliver an intuitive and efficient mobile SharePoint experience by:
offering an efficient and effective customization solutions;
bringing to the table new platform-specific features such as interactive gestures and online/offline data availability;
and ensuring quick and personalized access to specific groups of users.
Download your white paper today and learn how SharePlus launchpads provide extensibility and offer an efficient and effective solution to the mobilization problem, embracing flexibility and app customization.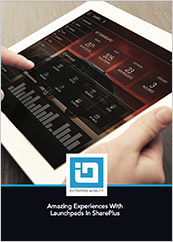 Download Now