Working On The Move: The ROI of Moving from Laptops to Tablets
In recent years, mobile productivity trends have started to shift from laptops to tablets. But just how beneficial is that shift? In this white paper, we explore the advantages of leaving the laptop behind in favor of faster, more lightweight tablets, including:
lower costs and more portability;
a seamless experience regardless of location (on the road, in the office, etc);
dedicated, mobile-first apps that allow access to enterprise business systems like Office 365 and SharePoint (such as SharePlus).
Download now and learn how the switch can benefit your business and boost your ROI today.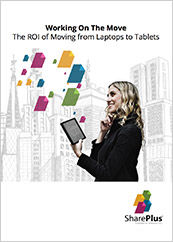 Download Now