10 ways SharePlus helps save on construction projects
Success in construction is about finding solutions to an ever changing combination of challenges. However, the unpredictability of the industry, the mobile nature of site management and the number of stakeholders involved can lead to wasted time and effort. How can you head these issues off at the pass?
In this e-book, we explore how implementing SharePlus, a mobile SharePoint & Office 365 tool, can bring you tremendous benefits in the field, including:
less errors, meaning lower costs;
easier collaboration for a boost in productivity;
better project management and increased efficiency onsite; and more
Download your free e-book and start streamlining, simplifying and saving on your construction projects today.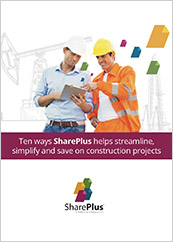 Download Now