"Mobile First" for Enterprise Mobility
The technology shift we've all been waiting for is finally here and we are no longer anchored to our desktop computers. But with this newfound nirvana of smart mobile phones and powerful tablets, why aren't we much happier? Because migrating a desktop app to a mobile platform isn't as simple as crunching your app to a smaller screen.
In this white paper, we explore how Infragistics has tackled the challenges of an increasingly mobile world with the "Mobile First" tools found in our Enterprise Mobility suite:
ReportPlus, our dashboarding/lightweight BI tool
SharePlus, a mobile-optimized SharePoint client
Get your free white paper now and learn how our Mobile First enterprise suite connects you to the information you need to be more productive and make better decisions on the go.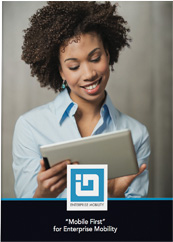 Download Now