Optimizing Your Mobile SharePoint Experience with SharePlus
Changes in technology have resulted in a global trend towards more mobile workforces, and Microsoft's SharePoint has contributed massively towards revolutionizing the way employees work, interact, and collaborate.
But in an increasingly mobile world, how do you make the most of all that SharePoint has to offer? Find out in our new white paper, where we'll cover:
the various 'out of the box' mobile apps that offer disjointed and unsatisfying user experiences;
the customization issues organizations find themselves faced with when creating mobile SharePoint solutions;
how SharePlus addresses all of these concerns and more.
When you download now, you'll see for yourself how Infragistics' SharePlus can provide you with a fully customizable SharePoint experience no matter where you are.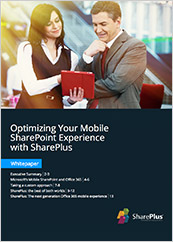 Download Now