Planning an Effective Mobile Strategy
With mobile technology now a ubiquitous component of doing business, providing your employees with comprehensive mobile solutions is critical to the success of your enterprise. But simply handing them devices loaded with apps isn't enough; it takes careful planning to execute an effective mobile strategy.
In this white paper, we explore:
the benefits and drawbacks of going BYOD or using company-issued devices;
the apps that will make the most of your mobile devices Reduced development cost and time;
how to gauge the success of your mobility efforts, and more.
Including a complete checklist with suggested timeframes at each step of the process, this white paper has everything you need to take on an enterprise-wide mobile strategy of your own.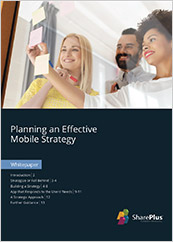 Download Now