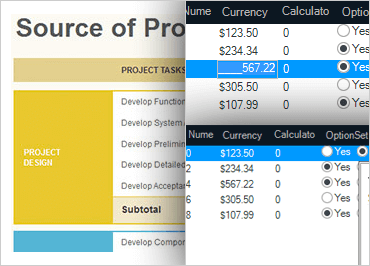 Windows Forms - Pivot Grid
Users can slice, dice, and filter the multidimensional data of your OLAP cube or data warehouse, settling the full power of online analytical processing within your Windows Forms applications. We've even simplified the binding process so it's easier to connect the Pivot Grid to a database table.
Download Windows Forms Samples
---
Business Intelligence
Our Windows Forms OLAP Pivot Grid lets users work with multidimensional data (MDX) from your cubes, data warehouses from XMLA SAP and Oracle, or Microsoft SQL Server Analysis Services. Unlock the potential of your data warehouses, your OLAP cubes, and your multidimensional data stores using the Windows Forms pivot grid.
---
Intuitive Drag and Drop
Users intuitively drag and drop fields from the field selector onto the Pivot Grid and rearrange the fields within row and column groups to see their data sliced and diced however they wish.

---
Interactive Filtering & Analysis
Unlimited display possibilities are available using CardView or Row Layout designers, split row, and column regions.

---
Deeper Drilldown
Users can drill down into the data to extract meaning from the numbers with expandable row and column fields. Expand any dimensions shown on the Windows Forms OLAP Pivot Grid.