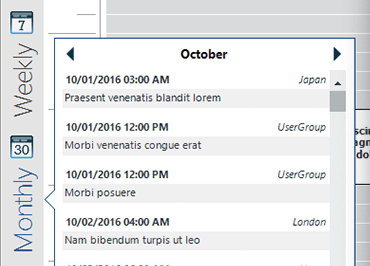 Windows Forms - Office Nav Bar
Inspired by the Outlook 2013 Navigation Bar, the Windows Forms Office Nav Bar navigates easily between views and offers the ability to quickly access a minimalistic subset of a view within a popup window, called the peek window.
Download Windows Forms Samples
---
Quick Interaction
The peek window allows you to show a control as the user hovers over any item within the bar.
---
Fully-Featured & Customizable
Set the Nav Bar in a horizontal or vertical orientation, and orient your items in either direction as well. The items can contain text, an image, or both and will allow the developer or user to specify the maximum number of items to display before showing an overflow area.