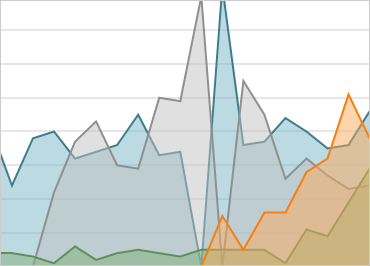 Windows Forms Data Chart
Take full advantage of touch, animate data over time, create composite charts, and use multiple series with our updated Windows Forms Data Chart control. Apply heavy duty data visualization and a wide range of series, including Line, Stacked 100-Line Series, Area, Stacked 100-Area, Bar, Stacked Bar Series, Bubble Series, Column, Stacked Column, Stacked 100-Column, Point, Spline, Spline Area, Step Line, Range Column, Waterfall, Scatter Line, Polar, Radial, Candlestick, and more.
---
Real-time Charting with Millions of Data Points
The speed and performance of our updated Data Chart are significantly enhanced. The improved chart can display millions of data points and update itself every few milliseconds to handle your real-time feeds.

---
A Variety of Financial Indicators and Trend Lines
The DataChart comes complete with 34 Financial Indicators such as Average True Ranger Indicator, Force Index Indicator, and Positive Volume Indicator. Choose from more than a dozen trend lines and one of two financial overlays: Bollinger Bands Overlay or Price Channel Overlay.

---
Axes and Legend Support
Users can scale the axis linearly, logarithmically, and across axis values with support for: multiple axes and date/time axis; zooming for both single and multi-axis; and zoom interaction with mouse wheel & window drag. The DataChart can create multiple legends and supports: chart title, subtitle, axis titles, text rotation, gridlines and radial chart y-axis.

---
Multiple Interactions
Access a fully-interactive experience with gesture and touch support, including pinch-and-zoom, pan, and press-and-hold. Add mouse or hover interaction for background highlights; bar, slice, or area highlights; tooltip labels; and gradient brushes to style your chart.