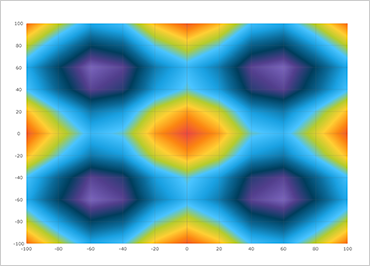 WPF Scatter Chart
The WPF Scatter Chart (available as a CTP control) is a lightweight, high-performance chart that can be easily configured to display scatter data using a simple and intuitive API. Just bind your X/Y data as a collection or a collection of collections, and the chart does the rest. Choose from Point, Bubble, Area, Contour, High Density, Line, or Spline visualizations.
---
Smart Data Adapter Chooses the Best Chart Type
If the ChartType property is set to Auto, the smart Data Adapter automatically chooses the best chart type for the data; for example, a bubble chart for a data set of three numeric columns, or a colored Area chart with numeric value for each pixel for a data set with 1,000+ items.