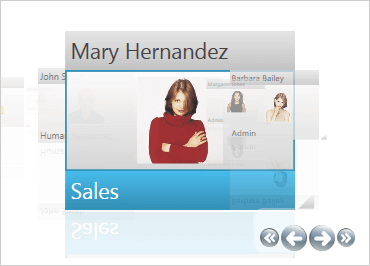 WPF Data Carousel
Add carousel motion and a sense of perspective to your data using the xamDataCarousel™.
DOWNLOAD WPF Samples
---
.NET Dashboard Carousel
Supports visualizing data records over a carousel path. The records can be hierarchical in nature allowing drilldown to child records.

---
Navigation Model
Navigate record by record or skip to the beginning or end of items in a given data series.

---
Carousel Breadcrumb
Supports an easy way to drill down into master-detail related records.
---
Ease of Editing Data
Edit data with advanced editors to accurately portray dates, currencies, and more.

---
Complete Stylability
Supports built-in themes for quickly-changing styles or through support of triggers and Visual State Manager for ultimate control.

---
Grouping
Group columns to show associated records together.