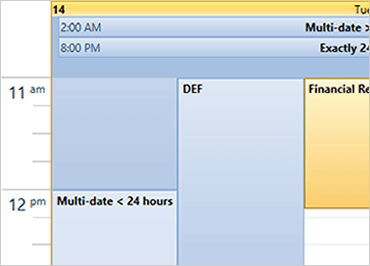 WPF Schedule
Add Microsoft® Outlook®-type resource scheduling to your WPF line of business applications with this full set of feature-rich month, day, week, horizontal scheduling views, and supporting data providers.
DOWNLOAD WPF Samples
---
Flexible Data Binding
Data Connectors let you to plug-in xamScheduleDataManager instances that handle binding to generic lists (and potentially other data sources in the future) to retrieve activities, resources, and calendars.

---
Day View
Provides your users with a day-by-day view of one or more resource's calendars in a day planner style, with variable time slot intervals, and overlapping or resizable appointments.
---
Month View
Displays a scrollable, monthly calendar view of one or more resource's' calendars when to show their activities spread over weeks or multiple dates.

---
Schedule View
A modular composition of calendar elements in XAML enables you to design the calendar's presentation with fine-grained customizability.

---
Recurrences
Enable users to set up recurring activities using a set of pattern rules that are more sophisticated than what is possible in Outlook.

---
Office 2010 Themes
Silver, black, and blue themes familiar to users from Microsoft Office can be displayed with one property setting.